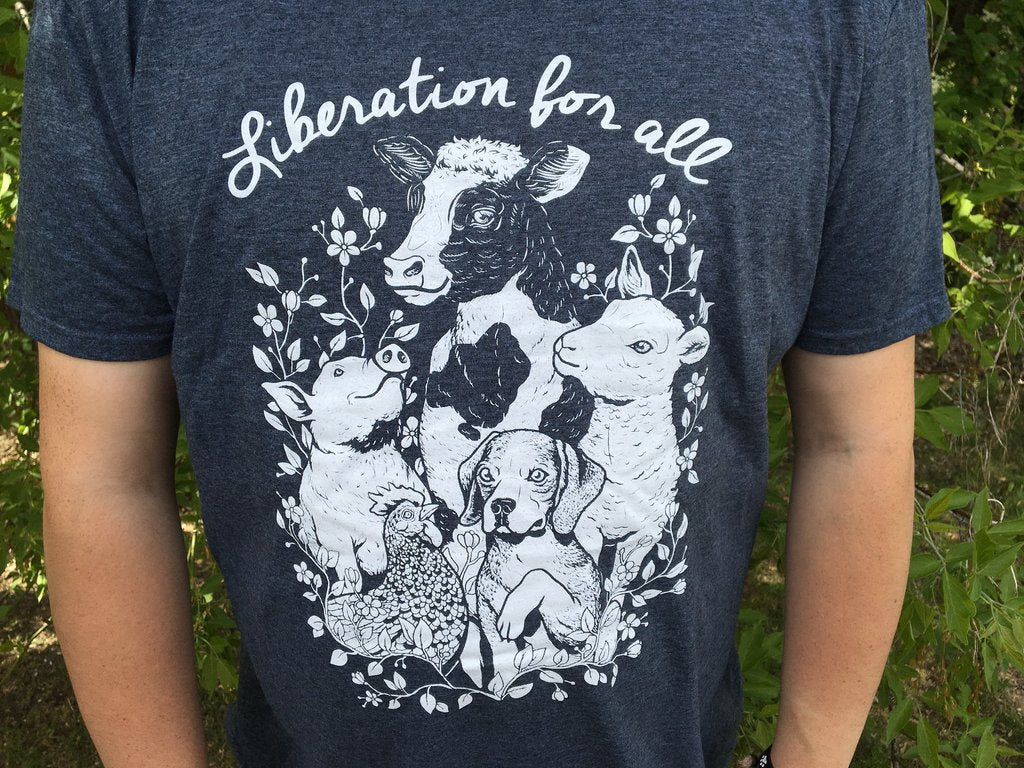 $39.95
$0.00
Liberation For All Tee (Unisex)
We advocate for liberation for all animals, no matter what species they are. On this shirt, there's a pig, cow, chicken, lamb and a beagle. It's so nice being able to spread the vegan message by wearing such a beautiful piece of art on your body! This shirt is great for those who want to have a vegan shirt, but they don't want something as "in your face" as some other shirts might be.
With every purchase, you are making a difference in the lives of animals & humans because we always donate 10% of our proceeds to various animal and human rights organizations each month. 

Follow us on Instagram @veganveins to see who we are donating to and for some vegan inspo! 
Fabric: 100% Cotton for black and white, 50% cotton and 50% polyester for the grey

Colour: White, black or grey
Sweatshop free & locally printed in Canada.
Sizing information:

Unisex small: 18" wide, 28" long
Unisex medium: 20" wide, 29" long
Unisex large: 22" wide, 30" long
Unisex XL: 24" wide, 31" long
Unisex 2XL: 26" wide, 32" long
Design by:
Www.facebook.com/w.kolinska
Www.instagram.com/w.kolinska
First Model: @brandonbphoto https://www.instagram.com/brandonbphoto/